Opportunity to contribute, make a difference while learning. Collaborative intervention in community development, urban planning, model housing, and architecture in Mumbai's famed Dharavi settlement. In proud association with the pioneering urbz collective.
HIGHLIGHTS
Hands-on learning with pioneers in their field
Onsite project in Dharavi, Mumbai. One of the world's most dense homegrown urban settlements.
Real world problem solving with meaningful social impact
Immersive engagements with local communities
Certificate of completion, standout addition to CV
High quality accommodation, transportation, security
SUITABLE FOR STUDENTS, RESEARCHERS & PROFESSIONALS OF
Architecture & Design
Urban planning
Anthropology, Social Sciences
Product development
Sustainability
Entrepreneurship
Or email us at booking@gormei.com
Available for minimum groups of 10. Must be booked 2 months in advance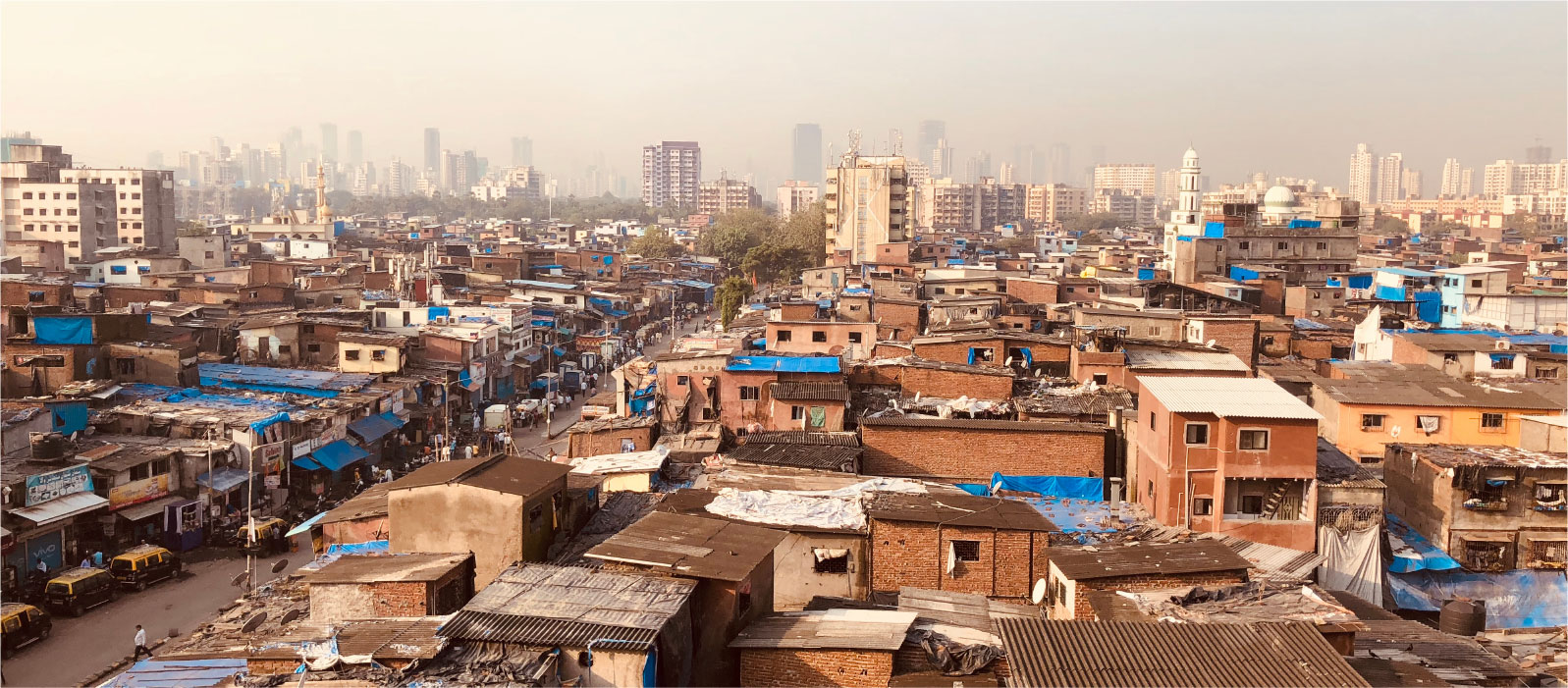 Dharavi is one of Asia's most dense home grown settlement, packing in a million people in a 2 sq km area at the heart of Mumbai, India. In spite of being one of the city's poorest parts, Dharavi's 100,000+ artisans and small businesses – often operating out of one-room workshops – generate US$ 1 Billion of output annually. This dynamic ecosystem is the subject of numerous worldwide studies and works of fiction.
urbz, our program partners, operate in this backdrop, with an aim to develop Dharavi while preserving the unique network of relationships between economic activity, family and community.
Their work serves as a global role model for similar settlements.
urbz is a collective of architects, designers, urban planners, anthropologists, economists and policy makers specialising in user-generated community development through public participation and engagement.
In Dharavi, urbz collaborates with residents, drawing on their lived experience, to solve real world problems communities face, without disrupting the intricate social and production relations within the settlement.
urbz has been invited to exhibit its work at the Design Biennale, Istanbul (2008), MoMA, New York (2013 & 2014), MAK, Vienna (2015), Chicago Architecture Biennale (2015), CAPC, Bordeaux (2016), HDA, Graz (2016), the MAXXI, Rome (2016), The Art Center at the International School of Geneva (2016), and Dr. Bhau Daji Lad Museum in Mumbai (2017).
urbz is currently active in Mumbai, Bogotá, São Paulo, Geneva and Seoul.
PAST PROJECTS
New York University, Abu Dhabi, (Engineers for Social Impact Program) | Chulalongkorn University, Bankok, (INDA International Program in Architecture) | School of Sustainability, Herzliya (Inter Disciplinary Centre) | ETH Zurich, (Faculty of Architecture) | EPFL, Lausanne, (Architecture) | Columbia University, New York, (GSAPP, Graduate School of Architecture, Preservation and Planning) | Tata Institute of Social Sciences, Mumbai (School of Habitat Studies).
urbz x INDIA BY HAND PROJECT: URBANISM
Creative problem-solving in community development, architecture and urban planning, in Mumbai's famed Dharavi urban settlement.
This is a typical 3 day module. Can be customised for your group.
Exploration of work-live spaces or 'tool-houses,' the basic economic units of Dharavi. Problem identification and brainstorming.
Study communities comprising tool-house clusters and their socioeconomic interdependence with a focus on communities specialising in leather manufacture and embroidery. Session on built forms and linkages to global markets.
Exploration of Koliwada, the fishing village that is Dharavi's original settlement. Documentation, creative brainstorming on structures and public spaces. Feedback from residents.
PROJECT GALLERY
Scenes from urbz student projects at Dharavi. Participants engaged with local residents and worked hands on with faculty and experts for problem solving with meaningful social impact.
Matias Echanove
Co-founder | urbz
Urban planner with specialisations in governance, social information systems and participatory design. Author, essayist, columnist with leading global publications. Exhibited at MoMA (NY), the MAXXI (Rome), the MAK (Vienna) and others.
Rahul Srivastava,
Co-founder | urbz
Co-founder, Institute of Urbanology and urbz, Rahul brings to urban planning perspectives from Anthropology, Ethnography, and Fiction. He has written extensively on urban issues and local economies.
Kareena Kochery
Architect | urbz
Architect specialising in landscape architecture. Kareena aims to help reimagine urban planning processes and resulting urban landscapes by exploring the multi-scalar, multi-dimensional flows and forms of urbanisation.
Samidha Patil
Architect | urbz
Architect and urban planner specialising in affordable housing, equity and social justice. Currently engaged in multiple public participation led urban development projects in India and Europe.
Participants will have access to our deep networks within the production and construction activities of Dharavi and will work closely at sites that Urbz is involved in.
Rahul Srivastava
Founder, urbz
Mentor at The India By Hand Lab
SAFETY
Our hospitality partners are world class and have decades of experience in hosting global travellers. Groups are accompanied by an experienced tour services director to cater to every need or contingency. All travel is via private fleets run by verified operators.
HEALTH & HYGIENE
Our handpicked partners and vendors adhere to the highest standards of cleanliness and hygiene. Please consult our pre-trip guide for tips or ask our local team for safe dining suggestions.
PRICES STARTING AT US$ 600 per person
3, 5, 7 day programs in Mumbai • Guided by urbz Faculty • All accommodation and transportation • All breakfast and lunches • Does not include airfare
Or email us at booking@gormei.com
Available for groups of 10 minimum. . Must be booked 2 months in advance
CUSTOMISE YOUR EXPERIENCE
India By Hand Lab projects can be designed specifically around your interests or curriculum.
Email booking@gormei.com or Whatsapp +85296307513 for a free consultation.
OTHER INDIA BY HAND EXPERIENCES